Top 5 High ROI Home Improvements 2021 and 2022
Top 5 High ROI Home Improvements 2021
This video will show exactly the top 5 DIY home improvement ROI 2021 that home buyers love when listing your house for sale. Some of these projects can be DIY depending on your skill level or you may have to hire a licensed contractor.
So without further ado:
1. Finish your basement
High-income buyers prefer basements and you're adding more heated square footage, which bumps up your house into another price bracket. Open Up The Floor Plan – Buyers favour designs that are either completely open or partially open around the living room, dining room, and kitchen. An open arrangement allows for more natural light, which is always inviting.
2. Open Up The Floor Plan
Buyers favour designs that are either completely open or partially open around the living room, dining room, and kitchen. An open arrangement allows for more natural light, which is always inviting.
3. Get a Steel Door
Installing a steel door has proven to recover anywhere from 69% to 91% at resale. Buyers appreciate the energy efficiency, low maintenance, and cold-blocking powers of metal.
4. Touch up Exterior Paint
You don't have to repaint your whole house to make it look new again. Touch up any flaking or chips, or pressure wash the exterior to remove dirt and mould.
5. Do a Minor Kitchen or Bathroom Remodel
New drawer knobs, cabinet fronts, and faucets in a matching style give a room a cohesive, modern look, and this small, inexpensive upgrade alone can have a big impact on buyers.
You can do these home improvements yourself DIY or hire a contractor. Many realtors will recommend these home improvements.
Those are the top 5 Home Improvement ROI 2021 for do-it-yourselfer or DIY.
Did we miss anything? Be sure to comment below.
Why not further increase your home improvement ROI by making sure your home is clean and uncluttered.
Check out our latest resources to help you with all your projects. We have curated a list of products that will help your moving or demo project go much smoother. Be sure to check back frequently as we do update it on a regular basis.
Check pricing now on  book a dumpster: 👉 https://junkit.ca
✅ Subscribe to get all updates: 👉 https://www.youtube.com/junktruck
Copyright © Junk It
Dumpster Rental Near Me? Advantages to Hiring a Local Dumpster Rental Company
There are a wide variety of reasons why people open their phone and Google search for a 'dumpster rental near me". You could be doing a home renovation project that requires pulling out a kitchen or bathroom. Or maybe you're downsizing to a smaller property because the kids have grown up and moved out.
In other cases, you could need to hire a large bin to deal with a hoarding problem that's grown out of control. Even a house move can inspire homeowners to discover a huge amount of stuff they don't want to drag to their new place.
For businesses doing office clean-outs or warehouse clean-outs, junk can be even more extreme, with items like unused furniture and other materials building up.
Whatever it might be, sometimes we generate so much waste that it becomes impossible to get rid of it through our regular waste service.
There are lots of options out there for consumers looking to hire a dumpster service. Some waste removal companies offer their services nationally and globally. But they are not always the best option for consumers.
Now, you might ask yourself, what are the advantages of hiring a dumpster rental near me? In the article below, we'll take you through the benefits of hiring a local waste bin or garbage dumpster.
Why You Should Use Local Services
While the scope of this article is about hiring local waste bins or dumpsters, there are lots of benefits to using local services more broadly. This movement towards using purchasing power to make more ethical and sustainable choices is prevalent in the food industry.
Buying locally sourced meats or vegetables has become popular because it has advantages for the local economy and the environment. And the same principles apply to local companies too.
As our communities have dealt with the devastating blows from COVID-19 in recent times, the need to support local businesses has become even more significant. It can be something as small as supporting your local cafe, bar, or restaurant. Or perhaps you can make a difference by supporting your local arts and music scene. However, you choose to make an impact, selecting local services or products is worth advocating.
Of course, supporting local businesses has a range of plus points that aren't just good for the community but can also help you.
Here are a few great reasons for supporting local businesses and services.
1) It Strengthens Your Local Economy
Local businesses and services are the backbones of the economy. These mom and pops stores, bars and restaurants, plumbers and electricians, and even dumpster services all come together to make up the local economy.
But what you might not have considered is the extra impact that happens when you shop locally. Using a big chain or corporation does have its advantages; however, using local services is better for your local economy.
Research shows that $10 spent at a local independent shop or service can mean an additional $50 is reinvested in the community. This happens because the local shops you spend your money with will go back into the community and recirculate this $10 on other local goods or services.
Instead of money being siphoned out of the community to pay out shareholders around the country or abroad, using local services helps to fortify the local economy.
2) It Creates Jobs
Using local businesses or services means that you can positively impact the health of your local economy. One of the best outcomes of this is increased job creation. Instead of waiting for your local government to attract jobs and industry to your area, you can boost local employment levels by doing your part.
Often, local employers pay better wages and provide better working conditions. Helping to grow the number of jobs in your area means it becomes a nicer place to live and work. A thriving local economy means more options for local families.
3) A More Personal Service
Corporate chains and outlets are big on customer service. But often, something is missing — and that's the personal touch of a local service provider that knows everyone in the area. In some ways, this idea seems old-fashioned or quaint, but there are lots to be said for a service that's about more than just a transaction.
Local independent stores generally operate differently from large corporations or chains. They tend to build long-term relationships and fit their service around your preferences. For example, a local shop will tailor their stock around their customer's needs rather than items trending across the country.
4) A Better Environment
Shopping locally can be great for the environment. We've all become more conscious of our impact on the planet, and one way to reduce air miles and transport are to make better local choices.
Locally owned or independent businesses often source local products themselves. The big plus with this approach is that it requires far less transportation and outsourcing. Buying vegetables at a chain usually means that they are picked and transported to the packaging centre and then hauled again to shops. All these miles add up and contribute to a negative effect on the atmosphere.
It's the same with the choice of using a dumpster rental near me vs a national or global chain. Often these national or multinational companies will send waste bins from far out of town. Over the course of a year, that means more pollution, whereas a local supplier only has to drive a short distance.
Additionally, local businesses generally take up less land. They are located closer to residents, which means less traffic, and therefore fewer pollutants. When all of these factors are combined, this means less congestion and reduced habitat loss, making for a better future for your children and grandchildren.
Why People Choose a Junk Removal Service
There are a lot of advantages to hiring locally, as we've explained above. However, the benefits go beyond the economy and the environment when it comes to dumpster services because the service itself is better.
Let's look at the reasons why some customers search for a "dumpster rental near me."
Quicker Service
One of the primary benefits of looking for a "dumpster rental near me" is that they generally provide a faster, more efficient service. Most of the bigger waste removal services have large client books. While they also have lots of staff, trucks, and bins, they can be stretched thin across their operation. Additionally, because they serve large areas, the logistics required to haul bins from one place to another can cause extra delays.
Moreover, the bulk of global and national dumpster companies serve large businesses. These contracts make up a significant revenue stream for these companies — often at the cost of smaller clients. So instead of getting put on a long list that a national dumpster company will get around to eventually, choose a dumpster rental near me.
If you have a renovation or waste removal job on a deadline, every second counts. Waiting for a dumpster bin to arrive while waste builds up outside your house or business is far from ideal.
Local dumpster services can provide a far quicker and more personal service. They have more time to work with you to find and recommend a suitable service for your specific needs.
Additionally, Junk It offers same-day service for Toronto residents. Compared to large corporate dumpster services, local dumpster firms with more manageable client bases can prioritize their clients. And because they are located in similar areas to their clients, they can reach them quickly.
Local Junk Removal Services are Often Cheaper
Another great reason to choose a dumpster rental near me is that you can save money. National chains tend to be more expensive because you'll have to fork out for delivery fees and local service area charges. Remember, these extra fees are on top of your dumpster rental costs and are basically a penalty for them being far away from you. Additionally, many national services also have exorbitant disposal fees.
However, a local dumpster rental company will typically cost you less because they operate nearby. Their locations mean they'll have lower expenses for getting to you and can pass these savings down. JunkIt uses a transparent pricing model, which means no hidden charges.
Local Companies Understand Local Regulations
Local waste removal companies are experts in the rules and regulations that govern trash disposal. These rules can vary between different areas, causing confusion for people renting a dumpster for the first time.
Calling up a national chain to enquire about what you can or can't do when renting a dumpster on your property in a specific area can be frustrating. For example, some areas, like Toronto, require permits if the bin is placed on the sidewalk or outside your house. Many large national chains don't have local knowledge, which can lead to a few nasty surprises.
Local dumpster rental businesses' deep understanding of local regulations makes calling up and enquiring about a service far easier. Whether it's for a home or a business, your local service supplier can talk you through the particulars of your area.
Additionally, your local dumpster company can advise you if you're unsure about what's allowed in a dumpster. Hazardous materials, car batteries, wet paint and so on are not permitted in a dumpster. However, if you have items that need to be disposed of separately, a local dumpster service will be able to recommend a few suitable places.
Easy to Hire
Another benefit of going down the dumpster rental near me route is that because they work in the area, you can efficiently do your due diligence. You can visit their depots to have a quick look at the equipment and dumpsters that they use. Additionally, you can find out more about their waste disposal process to ensure you are using an environmentally sound supplier.
Also, if they've been operating in the area for several years, you can ask friends and family who have used the service. Online reviews are obviously helpful, but many big national companies have the power to delete or scrub negative comments. Besides, the word of people you know, or trust is valuable. They'll be able to go into far more detail about local dumpster services.
Finally, if you want to dig even deeper, you can make a call to the dumpster company to find out about their service and ensure they are fully licensed to operate in your area.
Support Your Local Community
As outlined above, supporting businesses and enterprises in your local area is important. Large multinational or national companies use your money to service expansion loans, make payouts to shareholders, and often pay their staff poorly.
Whereas local dumpster services will keep money in the area, allowing it to circulate. This means that it can be used at other local businesses, helping to provide stable employment. Everyone knows how vital job creation and retention are in an area. It helps support the families that makeup and build a community, bringing pride and prosperity to towns and neighborhoods.
Conclusion
Hiring a dumpster rental or waste bin should be one of the easiest parts of your renovation, home move, or office clean-out. However, to ensure things run as smoothly as possible, you'll need to get a service you can trust that is knowledgeable about local rules and regulations.
Larger national or multinational companies typically lack the personal touch and local knowledge of local dumpster rental companies. For a more efficient service that has less impact on the environment, next time you need waste removed from your premises, search for a junk removal service near me.
How To Hire the Right Dumpster Rental Service
If you've got a load of waste that needs removing from your premises, a dumpster rental company is a great option. However, there are several factors to consider beyond competitive pricing.
Picking the Right Dumpster Rental Company
Homes and businesses tend to accumulate a lot of stuff. After a while, much of it becomes unwanted or obsolete. Up and down the country, warehouses and garages are filled with items that are just taking up space.
Sometimes it's not until you are moving home that you truly realize how much-unwanted junk you really own. Of course, that's not the only situation where you find that you need to dispose of more items than you can through your regular waste service.
Home refurbs add a lot of value to a property but ripping out bathrooms or kitchens adds a lot of waste to your driveway. Office and warehouse clean-outs can also generate various items that you just want out of your sight.
In times like these, a garbage dumpster can be a great option. These large bins are ideal for hauling a large amount of junk off your property.
If you're lucky, you'll have a wide variety of dump bin rental options in your area. However, choosing the right dumpster rental company will save you a lot of hassle.
If you've never hired a dumpster rental company before, you might not know where to start. This article will provide you with the steps and considerations you'll need to make when deciding how to hire the right dumpster rental company.
What to Consider When Hiring a Garbage Dumpster
One of the first things that people consider when looking to hire a garbage dumpster is price. That makes sense; we're all living on a budget to some degree. However, if you want the best service, filtering by price isn't always the best option.
Some of the low-cost options can seem like a bargain on paper. But after you've dealt with their discourteous staff, or been let down by delays or shoddy equipment, you might change your mind.
Most people use a dumpster rental during a time when they've got a lot on their plate. It could be moving home, clearing out a deceased relative's house, or during a home renovation project, and so on. These are high-stress times, where you are juggling a lot of balls. You need things to run smoothly and on time. Which is why choosing a well-reviewed local dumpster rental company means you'll get the best quality service for the price.
So, let's look at the different things that you should consider when choosing a bin dump rental.
Choose a Local Dumpster Rental Company
National and multinational dumpster rental services have a different operating model than local companies. Bigger company's business models are built around saving money through scale. Some of these companies offer a more economical service because of their "pile it high, sell it cheap" approach.
However, this can often lead to poor service or cutting corners. Delays, missed deadlines, and uninterested or unresponsive customer service are just some of the disadvantages of using a large national company.
Additionally, while many of these businesses offer services in your area, the reality can be quite different. Another popular business model of larger dumpster rental companies is taking your business but outsourcing it to a third-party supplier in the area.
In effect, they become an intermediary in the transaction. The third party they use could be good or bad, but you won't find out until they've rolled off the dumpster, robbing you of the chance to do your due diligence on the local provider.
Additionally, communication can become a bit of a pain because you must go through the contractor. This scenario can lead to missing instructions and other delays.
To save yourself the heartache, it's worthwhile considering local independent dumpster rental companies.
Each property is unique. And so too is each potential dumpster location. Your property could be in a bustling business park or a suburban street. It could be right at the end of a cul-de-sac or on the main road. Each location requires some thought or consideration about where to place the garbage dumpster.
A local dumpster rental company will have knowledge of your area. They'll understand the restrictions and regulations that determine where the garbage dumpster can be left securely. Additionally, they'll understand and be able to talk you through any permits or city requirements that you need to obey when hiring a temporary dumpster.
Another perk of hiring a local dumpster rental company is saving time. National distributors need to find and transport a dumpster to your property. This process can mean sending one in from out of town or speaking to a local third party.
For the consumer, these delays can be frustrating, especially if your project has a tight schedule. Local suppliers can provide quicker deliveries and pick-ups. Additionally, the best local dumpster rental services can offer customers a bit more flexibility with their schedules, which can make a huge difference.
Check Online Reviews
Once you've found a few local suppliers, the next step to take is to read some online reviews. Positive online reviews are an excellent way to separate the good from the bad. Look for positive reviews that detail good service, transparent pricing, appropriate equipment, and the overall demeanor and attitude of the team.
Likewise, trawl through any negative reviews. Hidden costs, delays, no-shows, and rude and unaccommodating staff are all red flags. No company can please anyone, so don't immediately rule someone out because of one bad review.
Look to get an overall picture of the pluses and minuses of the dumpster rental company you are considering.
Bonus tip: Ask your friends and family who live in the area. They may have a good recommendation to make.
Garbage Bin Rental Sizing
People use garbage bin rental for all sorts of reasons. As a result, an appropriately sized bin for one project will be too small for another. For example, if you're doing a kitchen refit, you'll be okay with a small dumpster. However, if you are engaging in a multi-room renovation, you'll need something a bit bigger.
Some rental companies only offer one dumpster size. If you come across these types of companies, you should beware. Firstly, the size might be too big for you, so you end up overpaying for what you need. Secondly, if the dump bin is too small, they might try to charge you for extra pick-ups.
So, before you pick a dumpster rental company, it's best to figure out what capacity your project needs. You can work this out by using cubic yards.
JunkIt offers four different dumpster sizes. They're all driveway friendly and come with a walk-in door, making them easy to load.
Mini: A 5 cubic yard dumpster that it's perfect for small home remodels or landscaping projects.
Small: A 10 cubic yard dumpster that is suitable for roofing projects, kitchen refits, or smaller residential clean-outs.
Medium: A 15 cubic yard dumpster that suits large roofing projects, multi-room renovations, or house clean-ups that require the removal of bulky items.
Large: A 20 cubic yard dumpster is the right option for big renovation projects, house clean-outs, and even for extreme hoarding clean-outs.
As you can see, there is a dumpster for almost every occasion. Estimating how much capacity you need is the best way to know what to budget for.
Of course, if you are struggling to figure out what size dumpster is best for you, you can always call up the company. Give the garbage dumpster rental company some details about what junk you need to be removed, and one of their helpful service staff will be able to make you a recommendation.
Transparent Pricing
As we've said earlier, pricing isn't always as important as a good, reliable service. But it's vital to know what you'll get charged. Most people are operating under a budget, so hidden charges can be an unwelcome and nasty surprise.
When you go to the website of a bin dump rental company, look out for clear and easy-to-understand pricing. When evaluating a service, most people want to know exactly what it will cost them for the dumpster. However, some garbage dumpster companies are known for their lack of transparency and hidden fees.
For example, many companies charge a disposal fee. Disposal fees are extra costs charged by landfills for items that require special handling. Some dumpster companies pass these charges down to their customers, meaning the actual cost of renting a dumpster bin increases.
Other hidden fees to look out for are fuel surcharges. These are fees that are charged to cover fuel costs, route delays, or other problems that might hinder the delivery and pick up of your dumpster. You can avoid these fees by giving good delivery instructions and checking height requirements against your premises. But the best way to avoid fuel surcharges is by booking a local company with transparent pricing, like JunkIt.
Great Customer Service
Hiring a garbage dumpster rental company is a straightforward and pleasant experience. Or at least it should be. So, look out for dump bin rental companies like JunkIt that have excellent and professional representatives across all aspects of their service.
Good customer service means that you'll have friendly, helpful, and knowledgeable staff when you call up to get a quote or make an inquiry or booking. Not everyone is familiar with the terms, capacity sizes, or rules and regulations around dumpster rental, so having customer service staff that are happy to assist clients is an important quality.
Additionally, as mentioned above, you'll want any dumpster company to be clear and transparent about their pricing and satisfactorily answer any other questions you have about the process.
If you give a good dumpster company the correct information, they'll be able to recommend a capacity size that is appropriate for the job.
But good dumpster rental customer service doesn't end there. Your rental bins should be delivered on the date and time that you have agreed upon by friendly and approachable staff.
A Commitment to Environmentally Responsible Recycling
One of the most important concerns for people throwing away a lot of junk is what happens to it after the dumpster leaves your home. So when you are looking for the right dumpster rental service, choose one that commits to environmentally responsible recycling.
Not all junk is waste. There are several types of materials that can be sorted through and re-used. Construction materials of many types can find a new life through construction recycling.
So, look for businesses that are passionate and devoted to keeping as much of your waste materials out of the landfill. Companies like JunkIt offer guarantees to sort through your waste to see what can be donated, recycled, or re-used. This environmentally friendly approach means that, on average, up to 60% of the junk removed from your property can find a new use.
Search out for companies that have an ideological commitment to responsible and sustainable garbage removal.
Conclusion
Picking the right dumpster rental company involves several considerations. To get the best service, you should look at local dumpster rentals. They're more reliable and come with a strong knowledge of the rules and regulations that affect a local area.
Never compromise on excellent customer service, transparent pricing, and a commitment to the responsible disposal of your waste.
If you stick to the advice outlined in this article, you'll be able to choose a great bin dump company like Junk It.

How to Declutter and Downsize your Home
Minimalism is a big trend these days. For a wide variety of reasons, many homeowners are deciding to declutter and downsize their homes. There are several steps to this process, and one of the most important is finding a bin rental company to take or remove the items you don't need.
How a Bin Rental Company Can Help You Declutter and Downsize
There are several different reasons why people choose to declutter their homes. Junk builds up over the years and sometimes takes over whole rooms. But if you plan on downsizing to a new property, you can't take it all with you.
Rapidly rising home prices mean that many homeowners have built up large amounts of equity. However, it's not just older Canadians who are considering the merits of downsizing. Living a more straightforward, smaller life is appealing to a wide variety of homeowners.
Moving into a smaller home comes with several advantages. It can save money or make payments more manageable. Additionally, it can facilitate a shift in life, where you can spend more of your time and money on travelling, enjoying the company of trends, and have new experiences.
Best-selling authors like Marie Kondo or Margareta Magnusson (the Gentle Art of Swedish Death Cleaning) have captured the public mood, inspiring them to take a different approach to organizing their space. With minimalism, less is more.
If you've lived somewhere for a decade or more, you'll accumulate a lot of possessions. But trying to declutter an entire home is not an easy process. Knowing where to start or what to focus on can be overwhelming.
If this is the stage you find yourself at on your downsizing journey, don't worry. This article will provide you with the steps you need to take to declutter and downsize your home, from deciding how to sort what you do or don't need up to the liberating moment of renting a disposable bin and saying goodbye to all those unnecessary items.
Advantages of Decluttering Your Home
While this article focuses on decluttering your home before you downsize, there are several benefits of decluttering a home even if you plan to stay in it.
We all tend to accumulate more things as we live, like clothes, books, kitchenware, electronics, furniture, etc. Many of these items are stored away just in case we need them. Often, they are forgotten about entirely.
In many cases, all this clutter is kept out of sight. Consigning junk to a garage, a garden shed, drawers or the attic can stop you from realizing how many unnecessary items you have. It's only when you come to move that you know you'll need a huge disposal bin to dump all these goods.
Many people live with clutter that takes over their living space. This scenario can make even large living spaces seem small and cramped.
There are several benefits to a decluttered home.
Mental Health
When your home is cluttered, your mind can also become cluttered. Living in a cramped and disorganized environment can have lots of negative outcomes. It can make you feel stressed to never be able to find anything or ashamed when you have visitors.
Even your sleep can be affected because your brain processes too many stimuli. A clean home gives you more clarity.
Easier to Clean
A decluttered home is easier to clean. Instead of moving boxes, clothes, and old magazines around a room to clean underneath, you can get right to floors, surfaces, and walls.
Accessing these spaces means that you can ensure your home is free of pests, mould, and any of the other things that can build up in confined spaces.
Reduce the Risk of Injury
If your home is cluttered, you increase the risk of someone having an injury. Tripping or falling over clutter is a surprisingly common cause of accidents around the house. So, clear those hazards away, and if you don't need them, get them into a disposal bin.
Increase Home Value
If you are planning on downsizing, you'll need to sell your home. As we mentioned earlier, too much stuff can make a home seem far smaller than it is. So make your home as attractive as possible by removing as many unnecessary items as you can.
We'd recommend hiring a bin rental and throwing out what you don't need before putting your home up for sale.
Benefits of Downsizing Your Home
There are lots of reasons to downsize your home. Changes in circumstance or employment can mean you need to reduce spending. When your children move out, it can leave you with too much space. You might want to move to an area to be closer to friends and family, but the property prices are very high. Or you could wish for a simpler life with less home upkeep, maintenance, and clutter.
Whatever your reasons, downsizing has several perks, like:
lower monthly mortgage payments
lower electricity, air-con and heating bills
less upkeep and maintenance
a simpler and more straightforward lifestyle
If you want to unlock the benefits of downsizing, you'll need to get rid of some possessions to fit into a smaller home. There are several ways to approach this. But there is no getting away from the fact that you'll need somewhere to put everything you don't need.
You can google a "trash dumpster near me" service and hire a bin rental. Having a disposable bin on your property while you clear out and declutter your home is an excellent option because it allows you to take your time as you move from room to room.
Of course, if you don't want to face it yourself, you can always hire a junk removal company. Many bin rental companies, like JunkIt, also offer this service. There are lots of reasons why people need help junking items, from saving time to physical limitations.
Whatever the reason, having a disposable bin on site is a crucial part of getting rid of what you no longer need.
Step-by-Step Guide to Declutter and Downsize Your Home
Now that you understand the benefits of a decluttered home, downsizing, and hiring a disposable bin, it's time to take action.
Here is a step-by-step guide to help you declutter and downsize your home.
Step #1 – Plan
There are a lot of sayings about good planning like "By failing to plan, you are failing to prepare" or "Give me six hours to chop down a tree, and I'll spend the first four sharpening the axe." These truisms all circle around the same thing — the essential part of a big job is figuring out how to do it.
Decluttering for a downsizing move isn't something you can go into without a map. There are a lot of things to organize, like getting time off work, help, disposal bin rental and so on.
The first thing to do is establish a moving date. Moving is a stressful experience, so you'll want to give yourself enough time to get everything done. Of course, if your home could easily be featured on the TV show Hoarders, you'll probably want to declutter before you move so that you can extract the best-selling price.
So, once you have your date, you'll want to work back. It's best to give yourself 2-3 days to declutter an average-sized family home. You may need more or fewer days, depending on your situation. But we'd advise that you try and give yourself as much time as possible if you plan to sell and recycle some of the clutter.
The critical component of decluttering is removing unwanted items from your home. They'll need to go somewhere, so google a trash dumpster rental near me to arrange a disposable bin rental. The bin price will depend on size. Typically, disposable bin rental is charged by capacity.
It's easy to underestimate how much space you'll need in a) your removal van and b) your disposable bin. So, how do you figure out how much space you really need?
It all starts with pen and paper.
Planning Declutter Method
Get a pen and paper and sketch the layout of your home. It doesn't need to be too detailed or exact, but you should have some idea about the dimensions of each room.
When you finish your sketch, assign each room a difficulty value between 1 and 5.
A room marked with a difficulty of 1 signifies a low amount of clutter; a 5 means that many things need to be removed and tidied.
Once you've got this recorded, you should start getting some idea of the job that is at hand. Additionally, you'll be able to estimate how many cubic yards of junk you'll need when it comes to bin disposal rental.
How you approach the process from here depends on your temperament. If you are the type to lose motivation easily, it might be best to start with the less cluttered areas and ease yourself in. As you progress and check off rooms, you might find yourself energized and growing into the task.
For others, tackling the job by starting with the more challenging areas will work. The beauty of this approach is that the tasks get easier with each room.
Disposable Bin Rental
You've got your moving date; you know how you will approach the job and roughly how long it will take. You even have an idea about how many cubic feet of junk you're going to get rid of. It's time to book a disposable bin rental.
The size and price of the disposable bin rental will depend on how much stuff you want to get rid of. It's worth remembering that services like JunkIt try to recycle as many of your items as possible. This can save you a trip to the charity shop because you'll know that anything that is reusable can find a new home.
The rental bin price is dependent on cubic yards.
5 Cubic Yard bin price = $258
10 Cubic Yard bin price = $358
15 Cubic Yard bin price = $458
20 Cubic Yard bin price = $558
Remember that the bin price above is the whole amount that you'll pay. JunkIt uses a transparent pricing model. There are no hidden charges like disposal fees or fuel surcharges. The price you are quoted is the price you'll pay for the service.
Step #2 – Decision Time
The next step is the decluttering stage. Maybe your disposable rental bin is outside, ready to be filled up. Or perhaps you've still got time. But this part is where you've got to get ruthless as you prepare to shrink your possessions.
There are a couple of things to consider here. First, what sort of downsizing are you doing? If you're moving from a multi-level family home with a garage to a condo, you'll need to make some significant cuts. On the other hand, if you are just going down a bedroom, you're not losing too much space. Consider the storage options in your new home too.
There are a few ways you can approach the decision to get rid of unwanted things and put them in the disposal bin. For each different item, ask yourself a few questions like:
Do I need this?
Do I use this?
Where will it go in the new home?
Does it bring me joy? (thanks, Maria Kondo)
Think about your new home and try to visualize where each item will go. If you're considering putting things in long-term storage, you need to ask yourself if you really need them or would it be better to donate or sell the item.
Now that you know the essential items you want to bring, you'll have another decision to make.
Everything can go into one of these categories.
1) Items that are coming to your new home
2) Items that could be valuable to someone that can be sold or given away
3) Items that will go in the disposable bin
It's worth remembering that an environmentally responsible dumpster rental service like JunkIt goes through the items and recycles up to 60%. So if you don't want to get into posting Craigslist ads or making trips down to the charity shop, you can load everything you don't need into the disposable bin, and it will be re-used if possible.
If you've lived in a home for a long time, sorting through many year's worth of stuff will be a long process. Additionally, it will be full of memories, both good and bad. So make sure you give yourself enough time.
Pro-Tip: Many homes have giant filing cabinets for tax documents, paperwork. letters, and real estate files. Some of this will be relevant and worth keeping, but much of it won't. The best policy here is to digitize what you need and throw the rest out. Of course, make sure to shred anything with sensitive financial details on it.
What Can Go and What You Can't Live Without
There is no absolute right or wrong here. Much of what you keep and what goes into the disposable bin depends on how extreme your downsizing is.
Here is a guide to help decide between "I'm keeping it" or "it's going with the disposable bin rental people."
Clothes, Shoes, and Other Accessories
One of the best ways to cut back on stuff is to do an honest evaluation of your closest. However, it's not always easy. We all hold on to clothes that remind us of the past and other people. Similarly, as we get older, most of us have a few items that we used to fit into and aspire to once more.
Downsizing to a new home is like a new beginning. And you can't bring old baggage (or clothes with you). So go through every item and get rid of whatever you wouldn't wear right now, weather or occasion permitting. Anything that is out of style or doesn't fit belongs in the charity shop or your disposable bin.
Furniture & Home Decor
Getting rid of furniture can be tough. Often, it was costly to buy, and it has years of use left in it. Couches, tables, chairs, coffee tables, and so on all take up their share of space. And replacing them won't be cheap.
But if you're downsizing, not all of it can come with you. Think about your new home and try to understand where each item will go. If you have artwork on the walls of your home, contemplate whether it will fit in the new one. Having a smaller life means making hard decisions.
Consider what you can sell or give away. The rest needs to go in your disposable bin for recycling.
Pro-Tip: Large or bulky items of furniture can be costly to ship. If you're moving far away, calculate the cost of a replacement vs. shipping fees. If it doesn't make sense, it's time to sell it or put it in the disposable bin.
Kitchenware
If you are downsizing into a smaller kitchen, decluttering your dishes, plates, glasses, and other cooking hardware is necessary. Again, storage space is probably your most crucial consideration. Larger kitchens come with lots of cabinets and drawers.
Think of your new kitchen. Does it have space for three different styles of wine glass? If the kids have moved out, do you really need all those plates? What about your kitchen gadgets? If they're dusty or hidden away, they need to go into the disposable bin.
Home Linen
If you've been in a house for a while, you'll no doubt have accumulated enough home linen for the whole neighbourhood. Go through your linen closet and ask yourself some questions. How many towels does one individual need? How many changes of bedclothes are necessary?
It's easy to get practical about getting rid of unused blankets and bedsheets. If you're downsizing in bedrooms, you won't need all these pillows and blankets. Everything else can be gone with a call to a disposable bin rental company.
Equipment
Another source of clutter in a family home is equipment from various hobbies. Old tennis racquets, musical instruments, and sports equipment can sit gathering dust in an attic or garage. It's not always easy to put this stuff in the disposable bin.
But if it won't fit in your new home, and you are truly honest with yourself about the utility of each item in your life, you may need to leave it for the bin rental company to take.
People try out a hobby and give it up all the time. Try and get it into the hands of someone who will use it, sell it, or put it into the disposable bin. It'll make space for the next hobby you'd like to try.
The Dreaded Junk Drawer
The junk drawer is the epitome of clutter. Random items of dubious utility or value shoved out of sight into a jumbled-up drawer. Pieces of string, broken items, buttons, unusually sized batteries, printer cartridges for machines from the 90s: yes, the junk drawer is full of things that no longer have a home or purpose.
The junk drawer is a good place to start decluttering. Sort through it mercilessly. If you don't need it, it goes into the disposable bin.
Outdoor Equipment
Sheds and garages up and down the country are full of unused outdoor equipment. Often they are hidden or packed away, so they're easy to ignore. But if you're downsizing, you'll need to do something about them.
Gardening equipment like lawnmowers and strimmers might become obsolete if you don't have a yard. It's a good idea to keep tools, but what about specialist equipment that you haven't thought about in years? Yes, the disposable bin.
If it doesn't work or you don't use it, factor it into the cubic yards of space you'll need when you're enquiring about disposable bin rental.
Books and Memorabilia
Old course and school books, children's books, and novels you'll never read. While it may be time-consuming, it's worth going through each volume and deciding if it can come with you to your new home. It's worth remembering that books and DVDs can all be digitized, which can help cut down on space significantly.
Memorabilia is some of the most challenging clutter to get rid of. Old cards, concert tickets, photo albums, letters, etc., are profound reminders of our past. Many people feel strange about letting go of these items.
If that sounds like you, digitizing could be the solution. You can scan cards and letters with your phone and upload them to the cloud—likewise, old photos.
Decluttering to prepare for a move to a downsized property is full of difficult decisions. But the easiest and best decision you can make is to google a "trash dumpster rental near me" so you can find a bin disposal rental company. You can't get rid of items without somewhere for them to go.
Step #3 – Deep Clean
As you pack items into boxes or your disposable bin, you should clean as you go. Checking off each room will make you feel happy and motivated. On moving day, ensure you get the help of friends or family.
But don't throw your cleaning products into the disposable bin. You'll need them for your new place. Before you unpack anything, clean the floors, walls, ceilings and other spaces. But don't stop there. Clean inside drawers and closets too.
Step #4 – Organize Your New Space
Now that you've reduced all your possessions and cleaned your new home, you're ready to unpack. Don't go back to your old cluttered ways. You need to be organized and consider each new item you put into your house.
Before bringing anything through the front door, consider what purpose it serves. One of the best solutions for a smaller place is multi-purpose furniture. There are loads of great ideas out there, like coffee tables, chairs, and dining tables that contain storage. Or furniture that you can fold away. Sofa beds are another great idea so you can accommodate visitors now that you don't have a spare room.
Even once you move in, you need to continue to declutter. Stay vigilant; clutter can quickly build up. Think about each room and identify areas where you can save space. A wall-mounted TV frees up floor space, likewise floating shelves.
Conclusion
Decluttering and downsizing your home takes a lot of time, effort, and planning. But if you're moving into a smaller place, you'll need to make some compromises. The key thing is to be as unsentimental as you can when it comes to stuff you haven't used or thought about for years.
Getting rid of items you can't fit and don't need in your new home is easy with the right disposable bin rental company. Choose a supplier whose bin price is transparent and doesn't include extra hidden costs like disposal fees.
A bin disposal rental is a huge help when you're downsizing. Environmentally responsible services like JunkIt guarantee that anything that can be reused or recycled will be kept out of the landfill. While you might not need something in your new streamlined life, the stuff can still find a home. So don't feel bad about throwing it out so you can make more space for yourself.

What to Consider Before Renting a Dumpster for Your Junk Disposal
Some ordinances require property owners to keep their properties clean and free from junk, such as Toronto's Municipal Code Chapter 548. That's why when you are organizing your home or renovating your place of business, it's important to have garbage bins or dumpsters on the property to store the junk away and avoid any violations.
When you have more junk than available garbage bins, renting a dumpster is a good option. However, there are things to consider before calling the garbage bin rental company. This article discusses the questions to ask yourself.
How Long Will You Need It?
Before calling a company that offers garbage bin rentals, plan for and know the timing of your renovation or clean-out project. Ask yourself:
When is the start date of the project?
When is the expected completion date of the project?
Knowing the answers to these questions will help you determine exactly when you need to schedule the delivery and collection date of the dumpster rental. Timing your rental prevents you from accumulating junk on your property before the arrival of the dumpster or having a full dumpster sitting in your front yard for days because you scheduled a late collection.
What Kind of Waste Are You Disposing Of?
It's unwise to assume that renting garbage bins means you can dump any junk into them. For instance, there are some things you can't put in your rented dumpster like paints and batteries.
Dumpster rental companies usually have guidelines on what type of junk they can and cannot accept. Here are the typical examples of acceptable junk:
Furniture: desks, couches, dresses, armchairs, mattresses
Appliances: washers, freezers, TVs, dryers, fridges, fax machines, computers, stereos,
Construction and renovation materials: glass, plaster, concrete, tiles, shingles, drywall
Assess what kind of junk you will be throwing away, and make sure to talk to your chosen garbage bin rental company about their guidelines. This should prevent further delays and ensures the complete disposal of all your garbage.
What Size Do You Need?
Dumpsters come in different sizes. When planning to rent a dumpster, you must also determine which size is best for your project. Choosing the right dumpster size should be easier if you already identified what kind of waste you're throwing away. If you are renovating your store, you may need a huge dumpster to store heavy items like concrete and drywall.
Figuring out the right size may look like a minor detail, but it is a critical factor. Nobody wants to pay for a large dumpster that they can't fill or get one that's too small for their needs.
Where Will You Place the Dumpster?
When planning to rent, you must also consider where you will be placing it on your property or location. The placement of the dumpster should be accessible with no obstruction of any kind near or above it. A good rule of thumb is making sure that the clearance above the dumpster shouldn't be less than 22 feet. Placing the container at the right spot will allow the rental company to make delivery and pickup easy.
If you don't have an accessible space on your property, you can place the garbage bin or dumpster on the street. However, you may require a permit to do so. The city of Toronto requires a Street Occupation Permit before any equipment or containers can be placed on the street. You can visit the city's official website to apply for one.
How Much Does It Usually Cost?
Dumpster rental prices may vary depending on how long your rental period is, the weight of the waste, and the dumpster's capacity. Ideally, a quick check of multiple service providers will give you a good idea of the price spectrum. You can find the most competitive price for your needs.
The average cost per week ranges from $200 to $800, depending on the dumpster's size. Rental may also include dump fees, which average $40 to $64 per ton. Some companies also offer flat-rate pricing. They provide an all-inclusive price based on the dumpster size, rental period, and disposal fees.
For instance, Junk It offers $439 for a small garbage bin with a 10 cubic yard capacity. This pricing includes all disposal fees and a rental period of up to 7 days. It's perfect for those who prefer to know the terms of their rental immediately.
These are just some of the things you need to consider when renting garbage bins and dumpsters. There may be a few other aspects you want to know, but these questions should already help you get a good start. Renting a dumpster does require careful planning; in doing so, you ensure an efficient process for your project and peace of mind for yourself.
Full-Service Waste Solutions
Junk It offers efficient bin and dumpster rentals across the Greater Toronto Area, coupled with reliable customer service.
Contact us today for your garbage or junk disposal requirements.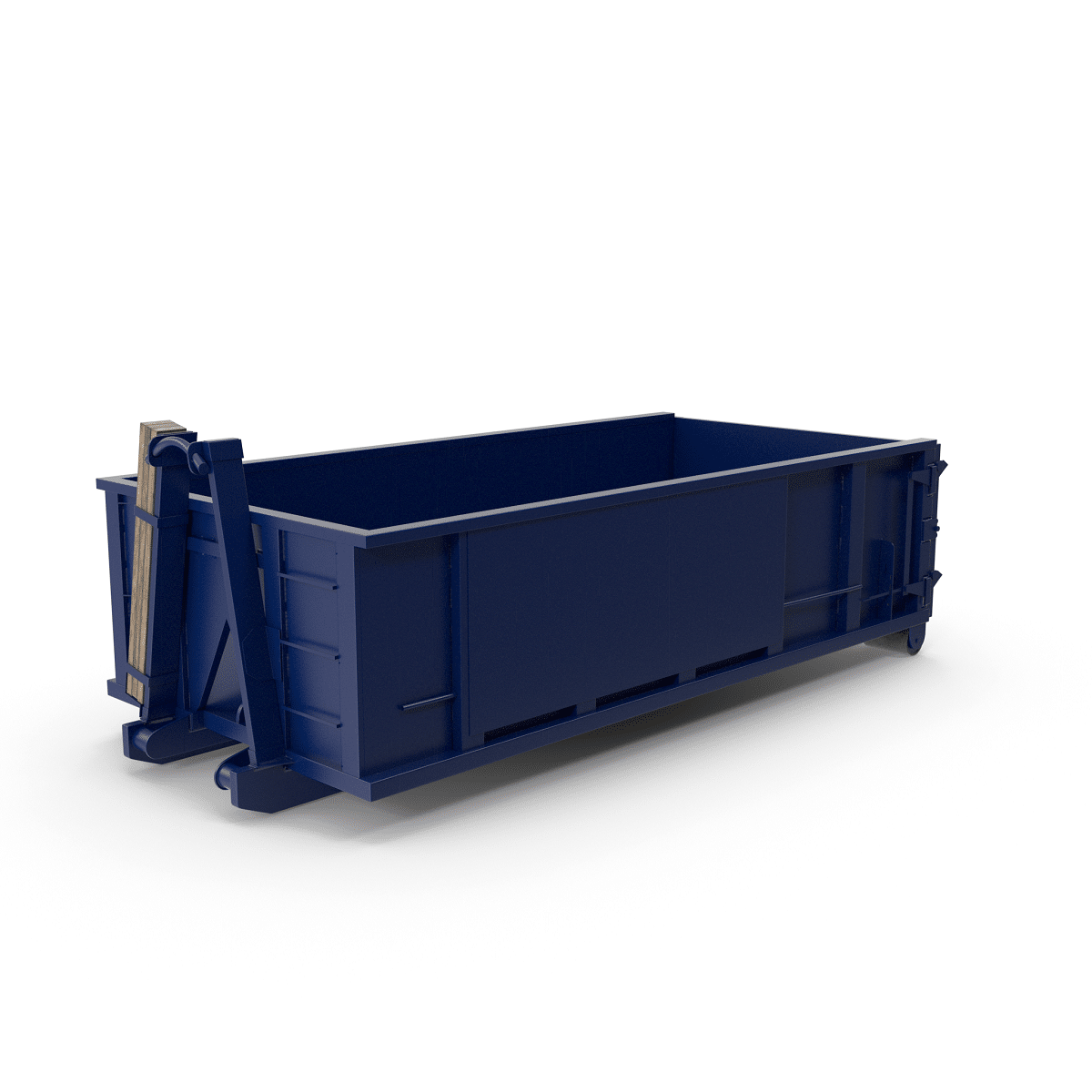 Ultimate Guide to Renting Garbage Bins
This is the ultimate guide to renting garbage bins. Big projects like home moves, major renovations, or clear-outs produce a lot of junk. Among the designs and hard work required to pull off these plans, one question that needs attention is:
What to do with all the waste, and how to dispose of it properly?
But unless you have a lot of previous experience knowing the best course of action can be complicated.
So here is our Ultimate Guide to Renting Garbage Bins that will help you get through the process and understand exactly what to expect!
The Benefits of Renting Garbage Bins
Depending on the project you're undertaking, renting a garbage bin can be a great way to eliminate waste. Instead of bringing items to the recycling centre or the landfill, renting a garbage bin means it will come to you. These bins — which come in a wide range of sizes — can be sent to your home and left outside to be filled up as you work. Then, when they're full, our truck will come and have it hauled off.
Additionally, many companies offer additional services that help you bring and load the items or assist in clearance and clean up.
When Do You Need a Garbage Bin?
If you own a home or a business, items have a habit of accumulating. When appliances or furniture become out of date, they are often replaced, but not always thrown away. Things get stored away with the idea that they'll be used sometime but sit gathering dust for years. As humans, we seem to collect stuff and don't realise that it's best to clear it out until it's too late.
Here are some of the reasons you might need a garbage bin.
Roof Renovations
Maybe you've moved into a house, and this job was on your to-do list. Or perhaps over time, your roof has become worn and leaky. Whatever it is, fixing a roof is something that most homeowners have to confront at some time or another. But replacing multiple layers of tiles creates a lot of mess. Getting all those tiles into a dumpster and removed from your life will give you a clean lawn to go along with your sparkling new roof.
Kitchen Remodel
For several reasons, from increasing the value of your home to updating your current setup, a kitchen remodel, or renovation needs to happen every decade. This can result in pulling out the existing cabinets, flooring and appliances. A dumpster can be a great help in these situations. Be sure to practice Dumpster Safety Practices to prevent injuries when loading a dumpster.
Attic, Basement or Garage Clearout
Clutter can make a house unlivable. Most people recognise this and designate a room in their home to put items they don't regularly use. However, after a few years of operating that system, that area can become overcrowded too. When you want to take the final removal step — or even reclaim the space — sort through all this junk and freeing up a room can be done by renting a bin and moving on with your life.
Yard Renovation
Renovating your yard has so many benefits from the visual to the practical. It takes a lot of work and creates a bit of a mess from weeds, shrubs, old pieces of furniture and so on. If you're taking on this project, it can produce too much waste for your regular collection. Renting garbage bins can be perfect in this situation.
Office Cleanouts
If you are moving office or clearing out your current setup, you'll likely end up producing a certain amount of waste. Old furniture or equipment that you no longer use needs to be dumped somewhere, and for that reason, renting a garbage bin is a great choice.
Warehouse Clean Outs
Warehouses are great for storing items that you aren't currently using, but sometimes this can get out of control. Often, people aren't too discerning about what they keep until it comes to a tipping point where one more item means they won't be able to close the door.
Downsizing
Depending on their stage of life, some people realise that they just don't need as much space as they used to. Kids grow up and move out, or you relocate to a new place, and suddenly you find yourself wondering what you are going to do with all this extra stuff. For cases like these, getting rid of the items you don't need is as easy as calling a reputable company to bring you some bins.
Hoarding
Hoarding comes in various shapes and sizes, from a slightly sentimental attitude to throwing stuff out to all the way up to the I-could-be-on-a-TV-show types. Whatever one it is, holding on to too many things is something that is not uncommon. But taking control and reclaiming the space is necessary and having a garbage bin outside to take the stuff away in one go as you claw back your room is the best move. Garbage bin rentals are a must in this scenario.
Estate Cleanout
Estate Cleanouts are an unfortunate part of life. During these stressful times, you'll have a lot on your plate like dealing with grief and legal matters. Choosing a company that is sensitive to your situation and professional and courteous enough to help you through this emotional time is essential. Renting garbage bins can help get rid of unwanted items when cleaning out an estate.
Information You Need Before You Rent a Garbage Bin
However, there are some things you should consider before ordering a bin.
How Much Junk Will Your Project Generate?
While planning your project, it's essential to try to estimate the amount of waste creation. A garage clearout can be relatively easy to assess, but home renovations can create mixed waste like plasterboard and brick. Trying to get some idea of how much waste you will generate is essential when deciding what size of the bin you should order.
What Type of Material Will Your Project Generate?
As well as estimating the volume, it's worth figuring out what type of waste your project will produce. Most garbage bins rentals will take a wide array of garbage, but they can't handle, for example, hazardous materials.
Items That You Can Put in Garbage Bins
| | | | |
| --- | --- | --- | --- |
| Furniture | Appliances | Household items | Construction and renovation materials |
| desks, filing cabinets, dresses, mattresses, couches, sofa beds, armchairs | washers, dryers, fridges, freezers, computers, fax machines, stereos, TVs | dishes, clothing, tools, boxes, lawnmowers | drywall, plaster, tiles, glass, concrete, shingles |
| | | |
| --- | --- | --- |
| Wood | Yard waste | Concrete |
| pressure treated and regular lumber, fencing, plywood, firewood | leaves, branches, dirt, grass, sod, soil, dirt, clay, compost | driveway concrete, pathway concrete, basement floor concrete, asphalt |
Items Not Acceptable When Renting Garbage Bins
Antifreeze

Batteries

Bleach

Cleaners

Compact fluorescent light bulbs

Fertilisers, pesticides and herbicides

Fluorescent light tubes

Gasoline, motor oil or hydraulic oil

Any type of Medical Waste

Aerosol cans

Paint or paint cans

Pool chemicals

Propane tanks and cylinders

Solvents and thinners

Asbestos

Fridges containing Freon or Freon tanks

Any type of liquid waste
So before renting garbage bins, knowing what items can be accepted — and which items can't — is essential.
Similarly, knowing the rough volume and weight of the items should save you both time and money.
Preparing What Needs To Go
Most people aren't too experienced in junk removal, probably because it's not a job that gets done too often. But if you're doing a big project that will create a lot of debris you don't need, it's good to have a system to smooth out the process.
If you are clearing out a house, a room, or an office, here are a few tips that can make for plain sailing.
Separate Junk Into Piles
Organising all the junk into its relevant piles can make things more manageable and more precise. Here are four different sections you can split your garbage into.
Recycling
Recycling is an excellent choice for the environment because it eases the pressure on landfills. Knowing which items can be recycled is reasonably straightforward. Stuff like plastic, cardboard, metal, glass and so on should be recycled.
Additionally, you should recycle certain appliances and batteries too, but they need to be disposed of differently to stop them causing problems for the soil and local water supplies.
Donations
Much of the clutter and items we don't use in our houses still have a lot of life left in them. Before throwing something out, it's worth considering if someone can get use from it. Clothes, equipment, electronics, furniture, and so on, can all be cleaned up and repurposed by someone. It could be your local goodwill or to friends or family, but often an item you've outgrown can find a new home.
Hazardous Waste
As you can see above in our comprehensive list of items that cannot be accepted at local landfills, there are plenty of everyday objects that seem innocuous but can be quite harmful to the environment. Antifreeze, paint, tires and fertilisers are mainstays of a garage cleanout that need to be disposed of responsibly. Additionally, when you are getting rid of a fridge, depending on the make or model, it cannot be accepted safely by a landfill. Be sure to check with you local municipality and Household Hazardous Waste Depot.
If you're not sure about a specific item, it can be best to ask your garbage bin rental company what is and isn't suitable. They'll know what things are OK for the landfill and which need to be disposed of specially.
Trash
And the last section will be trash. If you don't want to keep it, if it can't be donated or recycled and it's not hazardous waste, well then, it's trash. Renting garbage bins is the perfect solution when dealing with lots of unwanted trash.
Tips for Removing Awkward Items
Roll-off dumpsters  and garbage bin rentals are great for fitting even the most awkward items, but particular objects need specific consideration.
Mattresses
Renting garbage bins can be an option but there are a few different ways to dispose of a mattress. Because they are a very bulky item, they'll quickly fill up a garbage bin. Therefore, it is worth checking out if your area's bulk collection programs can take them. Other options to consider are donating a mattress or specialist mattress collection companies.
Electronic Waste
Many electronic stores and recycling centres offer recycling programs for electronic waste. Renting garbage bins to dispose of this material is not the best option. Some electronic waste cannot be placed in the garbage bin  because they contain materials that aren't biodegradable and hazardous. Electronic waste can be harmful to the environment. Be sure to check with your local garbage bin rentals company.
Refrigerators
Refrigerators contain substances that are harmful to the environment if left on landfills, so these are best left for curbside pick up by specialist companies that can dispose of them properly.
Tires
Tires can also be harmful if left in landfills, so the best option is to recycle them at a participating tire outlet or auto shop. Some recycling companies may provide tire recycling for large quantities and in this case renting garbage bins from these companies may be an option.
Materials and Medical Waste
These kinds of materials have become the focus of environmental concern and are not appropriate for landfills or recycling. Hazardous waste facilities and medical waste disposal centres are your best bet for items that could cause problems on landfills. Renting garbage bins for this material is not usually permissible.
Choosing The Right-Sized Garbage Bin
Renting garbage bin sizes aren't just about the volume. They're built to be suitable for a few different uses, so knowing what you need them for can help you choose the right one. Familiarizing yourself with the various sizes available and how they are measured should be done before you order.
Below are some general guidelines that you can use when deciding what size of bin you need when renting garbage bins:
MINI – 5-Yard Dumpster
Dimensions: 14' X 8' X 1.5'
Capacity: 5 cubic yards, which is the equivalent to 4 standard pickup truck loads.
Mini dumpsters are suitable for landscaping projects, as well as demolition jobs and smaller home removals.
Suitable materials: Dirt, soil, rock, concrete, asphalt, brick and yard waste, household rubbish
SMALL – 10-YARD DUMPSTER
Dimensions: 14' X 8' X 3'
Capacity: 10 cubic yards, which is the equivalent to 6 standard pickup truck loads.
The small dumpster is an excellent option that fits a lot of material, but can still be manoeuvred in tight spaces and perfectly fit a residential parking bay. This is great for home renovations like a kitchen refit or can be used to clean up after roofing projects, home construction or small residential clear outs.
Suitable materials: Shingles & Roofing Material, Construction Material (drywall, plaster, wood), Construction / Demolition Waste, Yard Waste, Carpets
MEDIUM – 15-YARD DUMPSTER
Dimensions: 14' X 8' X 4'
Capacity: 15 cubic yards, which is the equivalent to 8 standard pickup truck loads.
Medium Dumpsters are suitable for bigger projects like multiple rooms renovations, large roofing jobs, and house cleanups requiring getting rid of medium-sized bulky items.
Suitable materials: Shingles and Roofing Materials, Furniture, Renovation and Demolition Waste, House Cleanouts
LARGE – 20-YARD DUMPSTER
Dimensions: 14' X 8' X 5'
Capacity: 20 cubic yards, which is the equivalent to 10 standard pickup truck loads.
Large dumpsters are best for big residential cleanouts and commercial jobs. Big home projects, multi-room cleanouts and even for hoarding cleanouts.
Suitable materials: Appliances, Furniture, Renovation and Construction Waste, Mattresses, Estate Cleanouts.
How To Estimate The Weight Of My Junk
For an accurate pricing estimate, some idea of the weight of items is required. Estimates won't be exact to the gram by their nature, but to ensure you get the right-sized bin and avoid overage costs, here is a rough guide that you can use to keep you under the maximum allowed weights. Additionally, it is essential to ask your rental company how much weight is allowed in the specific bin you choose.
The first thing to consider is that a dumpster filled up with old duvets and clothes will weigh far less than a dumpster filled with brick and stone debris.
One of the easiest ways to estimate the weight of items is to agree on a standard size because of these differences. A cubic yard is a useful measurement because you can work out your rental bin's volume and know how much you can fit. A cubic foot is 3ft X 3ft X3ft. To visualise that, think of something like a kitchen stove. Now, you can use our handy guide to estimate the weight of your items.
| | |
| --- | --- |
| Item | lbs./ cu. Yd. |
| Wood (uncompacted) | 400 |
| Wood (compacted | 800 |
| Metals (uncompacted | 600 |
| Earth, dry, loose | 1890 |
| Earth, damp, loose | 2106 |
| Earth & Sand, wet | 3240 |
| Gravel, dry | 2970 |
| Garbage | 1150 |
| Fire brick | 3915 |
| Brick, soft clay | 2718 |
| Block, paving | 3694 |
| Cinders | 1080 |
| Clay, dry | 1701 |
| Concrete, sandstone | 3915 |
| Marble, solid | 4455 |
| Sand, wet | 3186 |
| Trap stone | 5849 |
Further materials weights can be found here or on similar websites.
However, if you are having trouble estimating the weights or cubic yard of your junk, consult with your garbage bin company, and they can help you get a ballpark figure.
Choosing the right company can be just as important as choosing the right dumpster. You need to make lots of considerations so that you get the service and products you need at the right price.
Experience of the Area
Because each area has its own laws and regulations, it's crucial to choose a company with a local presence. A company that is aware of the rules around hazardous and non-hazardous items and knows the recycling sites will be a safe choice to ensure your items will be sent to the right place.
Pricing
Ideally, you'll want to work with a company who has a transparent, no hidden fees pricing model. Unfortunately, there are the occasional shady actors in the industry who'll give you a quote and then add a load of miscellaneous items during or after the job. It's best to call and get a rough quote that can be firmed up once the bins arrive. No surprises, thanks!
Delivery and Pick-Ups Times
Depending on when you plan to complete your project, it's vital to schedule drop off and suitable collection times. Some companies will only deliver and collect on weekdays, which can be unsuitable if you work. It's worth looking at the company's operating hours to make sure they'll be available exactly when you need them. Additionally, to make sure your project goes smoothly, booking your bins a few days in advance is a great way to avoid messing up your schedule.
Professionalism
You've got enough going on in your project without needing to worry if the garbage bin rental operators are doing their job correctly. To make things go without a hitch, choose a company that operates in a way that won't cause any damage to your driveway when lying down and collecting the bin. Make sure they have supplied the equipment and plywood that protects your property and prevents any damage.
Environmentally Friendly
Ethical disposal policies are essential to you, and they're imperative to us. Getting rid of the stuff in your house and office is great, but you also want it to be disposed of responsibly. Choosing a company who will do this properly — and not harm the environment — is vital. So make sure you choose a company that will recycle what they can, so you can sleep easy.
Good Reviews and Reputation
To make the process run smoothly, it's good to look at a garbage bin provider's reviews and reputation. Professionalism and courtesy go a long way, so finding a local, trusted team who will deliver and collect your bins in a way that won't be complicated or cause any damage is a must.
Accreditation
There are lots of governing bodies and regulations around the disposal of waste, so make sure that any company you work with has the approval of your local regulators. These badges of approval, such as a license and registration with the Ministry of the Environment, will ensure that working conditions, equipment and removal and recycling policies are all up to the standard you should expect.
Understanding A Quote When Renting Garbage Bins
While renting a garbage bin is a relatively straightforward process, understanding what goes into your quote is a good idea when making sense of the price. To get an accurate quote, it's best to provide accurate information. So before you give us a call, there are a few things that you will need to know. Here is a handy checklist.
-The address of the property
-What type of materials you want to get rid of
-How much junk there is
-Where would you like the garbage bins placed on your property?
-What date would you like it to arrive?
-How long do you think you'll need it for?
If you can answer these questions, you'll be able to get an accurate quote over the phone.
All-inclusive Pricing
All-inclusive pricing is the most commonly used pricing model. Most people prefer it because they have a better idea of what is happening and it comes without any surprises. Here is what you will find included in your all-inclusive pricing.
Cost of Garbage Bin Rental Delivery
The cost of the fuel and the labour required to bring your garbage bin. This needs to be driven out to your location, unloaded and secured by trained staff.
Length Of The Garbage Bin Rental
Rentals can be priced as weekly or monthly, but some companies also offer a same-day collection option. If you have special consideration or believe your job will require a garbage bin for a long time, it's best to relay all of this before you get your quote so it can be accounted for.
Collecting the Dumpster
Another part of your quote will reflect the collection and loading of the dumpster on your designated day. Again, fuel and labour have to be factored in.
Junk Disposal
The final part of your quote will factor in the disposal of your items. The weight of the items you are getting rid of can alter the price, which is why it's good practice to detail what articles you want to dump during your quote.
Most companies will have a weight limit for each bin, usually measured in tons. Overage fees can be incurred if you go considerably over your estimated weight. This is generally calculated by the ton.
Some tips to avoid overage fees are below.
1.Choose an appropriate bin size for your project.
2.Keep it covered, so the items don't get weighed down by rain — or opportunistic fly-tippers
3.Try and stick closely to dumping the items you were quoted for
4.Stick within the collection date to avoid late fees
Additional Factors That Can Change Your Quote
Overage Fees
Overage Fees — as discussed above — can be avoided by providing your garbage bin rental company with the most accurate information. While it may seem prudent to rent the smallest bin, if you try and stuff it with many items, this plan can turn sour. It's best to be clear about how much weight you will need to dispose of so that your garbage bin professional can advise you of the appropriate bin size you need.
Late Fees
When you receive an initial quote, it's based on how long you will require the garbage companies' property. For various reasons, you might find that you will go over the agreed time and have to reschedule collection. Most companies will charge in the region of $10-20 dollars per day. So if you run overtime, expect to see it on your bill.
Permits
There are several local rules and regulations that affect when and where you can place a garbage bin. Customers are advised to research any local permits required by your local building permit office. Usually, these are relatively straightforward and uniform, but occasionally a HomeOwners Association or specific streets will have their own rules that need to be abided.
Situations where a permit can be required are when leaving the garbage bin on a public right of way, like city streets or sidewalks, alleyways or publicly owned properties like parking lots.
Situations where a permit is not required are when you are not blocking a public right of way. This can include your own driveway or property, private commercial premises, or private land.
Long Distance Deliveries and Collections
Depending on your location, extra fees may be required when renting a garbage bin. This is usually in the case of a property or office that is located in a very remote area that needs additional time to access. However, making sure that you are precise with this information during your quote should avoid this scenario.
Prohibited Item Penalties
Each province and municipality has its own rules and regulations about what items are prohibited or considered hazardous when disposed of in a landfill. A failure to adhere to this guidance can result in fines and penalties.
To avoid this, it's best to be clear about what items you plan to fill the garbage bin with so that you can be coached about what things are suitable for disposal. Some articles are very obviously unsuitable for the landfill, while others are more surprising. See our helpful list of items that can and can't be disposed of, and if there are any you are uncertain about, it's worth enquiring before your quote.
Tips for Renting a Dumpster or Garbage Bin
Select the right service for your needs
A one-off service is suitable for small jobs that won't last long. In that case, it's worth scheduling the delivery of your bin for a time when the waste will be accessible.
However, for longer jobs that could stretch over several months — or permanent commercial works — a more regular collection may be suitable.
Figuring out what you need can be challenging if you don't have a lot of experience, so speak to one of our team if you have any questions.
Clear Enough Space For Your Bin
Before your bin is delivered, you should decide where you need to place it. This is important for any issues with permits, and so you can prepare the area for delivery. So, once you've decided on the right bin for your project, measure out the site so it can be delivered without any problems.
Get The Most Out Of Your Bin
To make the most of each cubic yard you have, you should fill your bin the smart way. This includes placing items evenly and making use of the front-loading doors when you fill. Additionally, try to avoid having objects sticking up or out over the sides. This can make it hard to carry and easy to snag when you are walking past with heavier items.